News

November 2018 - Appointment of Marjorie Wadsworth as President of Poynton Players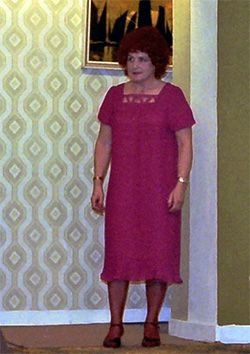 We are delighted to announce that Marjorie Wadsworth has been bestowed the great honour of becoming Poynton Players' latest President following the sad passing of her predecessor in the role, Phil Davies, earlier in the year. Like Phil, Marjorie – our longest serving member, having joined the society 55 years ago at the beginning of the 'Swinging Sixties – has been a fantastic servant to the society, having served as actor, director, committee member, set builder and valued front of house member, the latter role in which she still helps out with to this day. Indeed, Marjorie was one of the committed members who rallied together to save the society when it was threatened by extinction in the late seventies; the fact the society is still going and in such great shape is testament to their efforts.

Marjorie and her now sadly late husband Peter, were somewhat thrown into the deep-end at Poynton Players. Whilst in the process of moving from Stretford to Hazel Grove – where Marjorie still resides to this day – they happened to mention to their removal man that they had been involved in amateur theatre at Stretford. He then promptly relayed to his neighbours, who just happened to be involved at Poynton Players at the time of, that the Wadsworths had theatrical interests and said neighbours, who were struggling to cast and find a director for their upcoming production of Armitage Owen's 'None So Blind', decided to pay them a visit with cap in hand. Although they had barely moved in and with most of their possessions still in boxes, Marjorie and Peter - typically for them - decided they couldn't let the side down and were immediately thrust into action, with Marjorie taking the part of Lucy Whittaker and Peter taking his seat in the director's chair. Judging by archive photos of the play and the review in the local rag, the play and Marjorie's performance were a resounding success, with Marjorie described as 'smoothly nasty as a conniving mother'!!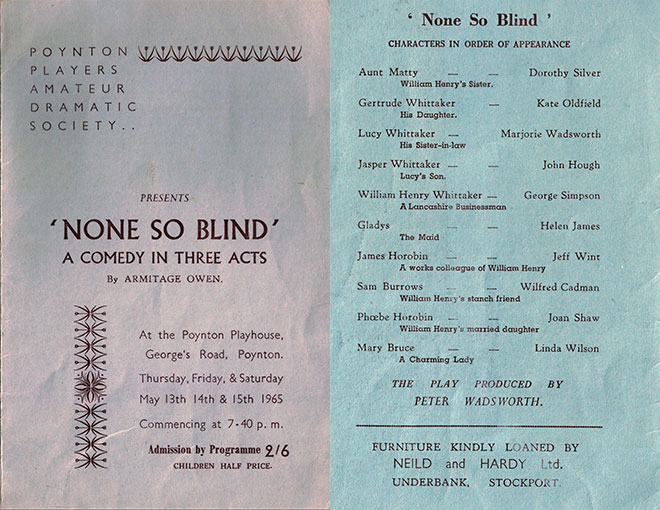 Since joining the Players in 1963, Marjorie has been involved with countless productions, both on and off stage. She relayed to me by telephone a couple of days ago that, of the plays she was a part of, some of her favourites were: Stepping Out, Din Dins (Marjorie on left in the photo below), another production directed by Peter, and Ten Times Table (bottom photo centre).

More photos of the production of Din Dins can be seen here and Ten Times Table here.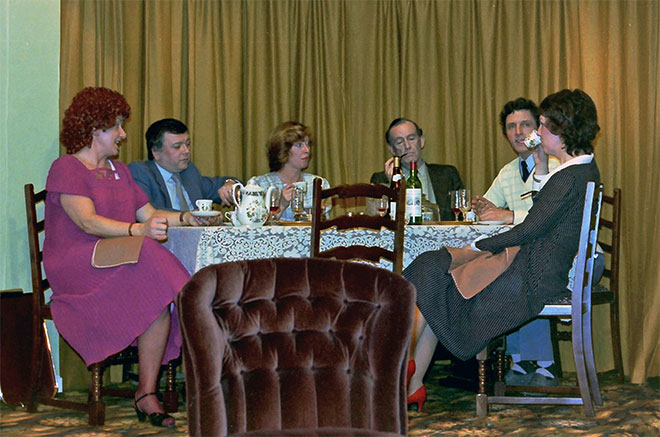 Below - press cutting from Stepping Out (Marjorie centre back). More news cuttings about the production can be seen here.




Indeed, Marjorie was still treading the boards as recently as 2013, when she made her final bow in 'Day of Reckoning' (below far left), another of her favourites. Whilst Peter sadly passed in 2004, Marjorie has still continued to be a stalwart of the society right up to the present day and, even as she approaches 90, shows few signs of slowing down and we are delighted that she has accepted the role of president. Congratulations, Marjorie, it is richly deserved and here's wishing you a long and happy time in your latest role!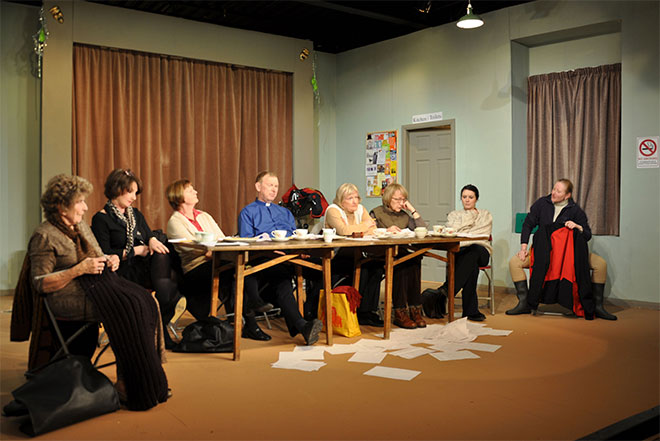 Day of Reckoning production photo above. More can be seen here.

Ten Times Table production photo below. More can be seen here.